../Information Processing in Yeast/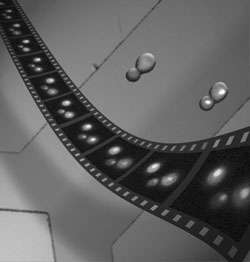 Cells have evolved complex signal transduction pathways to detect, signal and adapt to the changes of their physico chemical environment. As for an electronic device, cells can process information and take decisions thanks to their many signaling pathways. Although the gene regulatory networks and the key proteins involved in signaling cascades are usually well known, the dynamical properties of signaling pathways are poorly described in the litterature. Their robustness, speed, frequency behavior, bandwidth are mostly not known, limiting our ability to predict cells dynamical behavior and our capability to use synthetic biology to design novel signaling cascade with well defined dynamical properties. We started to investigate this by adapting concepts from engineering and dynamical system theory to living cells. We used the HOG pathway, a well known, canonical signaling pathway in the budding yeast (S. cerevisiae). This cascade is activated upon hyper osmotic stress and triggers a large transcriptional response, including GPD1 dependent glycerol synthesis to perform volume homeostasis. We designed a simple and versatile microfluidic device to change periodically the osmotic environment of yeast cells while imaging the time dependent localisation patterns of Hog1p, a Mitogen Activated Protein Kinase (MAPK) and the key transcription factor of the osmotic response in yeast. Hog1p is indeed translocated in the nucleus upon osmotic stress. Varying the frequency of the variation of the osmotic environment, we found out that the HOG cascade behaves as a low pass filter. It cannot be activated by too fast fluctuations of its environment, but is able to faithfully follow a periodic osmotic input slower than typically 200 seconds. The inverse of this critical timescale is a measurement of the slowest in vivo kinetics at play in the HOG cascade. Importantly, we were also able to show that modifying the architecture of the pathway can lead to a different dynamical behaviour. More details about our work can be found here [PNAS 2005].
This work and its underlying concepts (synthetic biology, engineering and physics of dynamical systems) is the basis of both the long term goal of our lab and the interdisciplinary center of interest of its members. We are now interested in understanding what biological and physical parameters set the typical timescales and dynamical properties of cellular processes, from signaling pathways to gene expression and regulatory networks. To this end, we are developing and using microfluidics, single cell microscopy imaging, synthetic biology and engineers method to study the information processing ability of living systems. We recently studied the physical origin of cell signaling impairment by volume compression, designed an experimental platform implementing an in silico feedback loop to control gene expression in yeast, bacteria and mamalian cells, designed novel tools for microfluidics, image analysis and synthetic biology. Our main focus related to information processing is now oriented towards the development of cell - computers interfaces to drive cells automatically thanks to a computer controled feedback loop.
[Actual colloboration with S. Léon, Past collaboration with A. Miermont (Alumni, PhD), S. Bottani (Paris Diderot), M.N McClean (Princeton University), S. Ramanathan (Postdoc Advisor, Harvard University)]